Map Checking/Review Expertise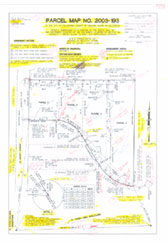 One of Johnson-Frank's core competencies is subdivision map review and map checking. The firm began in 1975 for the sole purpose of providing timely map checking services to the City of Irvine. Over the years our services to the City, as well as to other clients, have grown. To this day, Johnson-Frank focuses an entire department on Map Checking, which still generates nearly 20% of our annual gross revenues.
Timely and Accurate Review Upon Which Numerous Cities and Counties Rely
Johnson-Frank currently serves the map checking needs of five cities and one county. These Cities and Counties are listed below with reference contact information:
County of Orange / Kevin Hills (714) 967-0824
City of Irvine / Mark Carroll (949) 724-6410
City of Mission Viejo / Rich Schlesinger (949) 470-3079
City of Laguna Niguel / John Morgan (949) 362-4332
City of San Marino / Carlos Alvarado (626) 960-1889
City of Covina / Laura Lara (626) 384-5490
Relying on Johnson-Frank for map review is a sure thing. We have the full time, dedicated and trained staff to fulfill any local agency's needs and have been doing so for the City of Irvine for the past 40 years.