Public Agency Services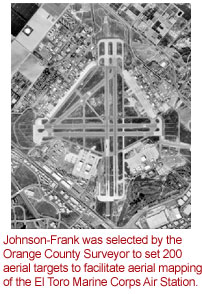 Johnson-Frank's concentration on public sector clients bolsters our familiarity with codes, ordinances, and personnel of the area's municipalities and government agencies. This focus is reflected in the surveying services provided. The Firm enjoys an excellent reputation for its field research, field surveys, and its knowledge of survey practices and documentation. That reputation extends to Johnson-Frank's knowledge of local policies. Some municipalities and government agencies regard Johnson-Frank as an extension of their own staff.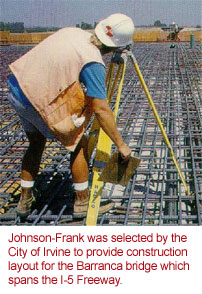 A Standard of Excellence on which Government Agencies and Municipalities Can Confidently Rely
Johnson-Frank has an enviable depth of government agency and municipality surveying experience. That experience is manifested by an exciting array of projects in which the Firm is, or has been, involved, including:
Boundary Surveying and Right of Way Engineering
Earth Movement Monitoring Studies
Bridge Layouts
Digital Terrain Modeling and Earthwork Quantity Calculations
Planning, Establishment, and Maintenance of Precise Horizontal and Vertical Control Networks
Three Dimensional Computer Aided Mapping
Aerial Photography and Airborne GPS Controlled Aerial Photography
Aerial Mapping Including Ground Control, Map Compilation, and Analytical Bridging
Beyond our extensive experience, technical expertise and our ongoing acquisition of the latest, most precise equipment, the Firm's success may be partially attributed to an emphasis on old-fashioned communications skills. Johnson-Frank's internal communication network results in all of our people understanding the role, goals, and intentions of the agency for which the Firm is working. Experience indicates that an open dialogue results in projects that are brought in on time and at projected costs.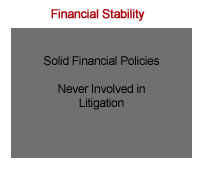 Johnson-Frank & Associates, Inc. is financially sound. We have remained fiscally sound throughout our 36-year existence in spite of the economic downturns experienced by the County of Orange and the economy in general. We have outlasted many other firms who could not withstand the economic impact. Through our sound fiscal policies, we keep our debts at a minimum and our clients' satisfaction at a maximum. As a result of these policies, Johnson-Frank enjoys an outstanding credit record and can easily finance any project specific expansion necessary.
Our firm also stands on solid ground legally. We have never been involved in any litigation and have never had any claims against our $2,000,000 Professional Liability Errors and Omissions insurance.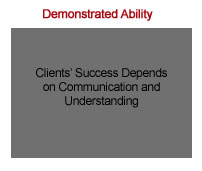 Johnson-Frank & Associates, Inc. handles all projects with the same superior level of competency and enthusiasm. We have provided land surveying services for projects ranging from neighborhood shopping centers to planned communities, large scale communications networks, and transportation facilities. All projects were completed with focus on the clients' needs, resulting in success through satisfaction.
The attribute that truly distinguishes Johnson-Frank & Associates, Inc. from other full service firms is our ability and commitment to communicate on an ongoing basis with our clients. Our experience shows that most projects require a continuing dialogue insuring that client' goals are constantly fine-tuned so that the final results will reflect the clients' very latest input.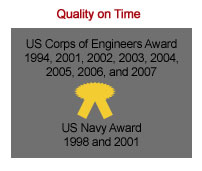 Our firm has performed all kinds of surveying services, including unique services that private firms are not often accustomed to providing, such as city or county wide horizontal and vertical control networks and geodetic leveling for subsidence monitoring. We work seamlessly as an extension of our client, whether they are a private entity or a governmental agency. Our rigorous attention to detail provides our clients with the utmost confidence in our services and has prevented our firm from ever being involved in any litigation.
We received outstanding performance evaluations from the Los Angeles District, U.S. Army Corps of Engineers in 1994, 2001, 2002, 2003, 2004, 2005, 2006, and 2007. In addition, we are the only contractor for the LA District that has always been on time and within budget. We received excellent performance ratings from the Southwest Division U.S. Naval Facilities Engineering Command in 1998 and 2001. We have also received numerous letters of appreciation from clients, both public and private, including attorney Warren Wimer, private firm Robert Bein, William Frost & Associates, the City of El Monte, the Bureau of Land Management, and Norco-Corona Associates to name a few.