Qualifications & Experience
Johnson-Frank's solutions are singularly tailored to meet each client's goals. As a full service land surveying firm, the Johnson-Frank staff includes registered and degreed land surveyors as well as highly experienced support technicians. The Firm's equipment represents the latest surveying technology. From its' offices in Anaheim, California, Johnson‑Frank provides services throughout the United States.
Practical, Extensive Experience
Johnson-Frank provides a wide range of land surveying services to an equally wide range of private and public sector clients. These services include the review of subdivision maps, tract maps, and records of surveys for numerous local public agencies such as the cities of Irvine, Mission Viejo, Fullerton, Laguna Niguel, Irwindale, Cudahay, Bell, and the County of Orange. The Firm also serves as the City Surveyor for the cities of Irvine, Irwindale, Fullerton, Laguna Niguel and Mission Viejo.
Johnson-Frank is well versed in serving county and federal agencies. The Firm has served as the on-call surveyor for the U.S. Forest Service's Southern Nevada Acquisition Office for the last five years. The Firm began a relationship with the U.S. Army Corps of Engineers, Los Angeles District, in 1980 and has been on an on-call basis since that time. As the founders of Johnson-Frank emerged from the ranks of the Orange County Surveyor's Office, the Firm has served as an extension of that agency on an as needed basis since 1975.
The Firm has received numerous awards and letters of appreciation from its' clients over the years. The Firm received outstanding performance evaluations from the U.S. Forest Service for projects completed from 2003 to 2008. The firm also received Excellent and Very Good performance ratings from Los Angeles District, U.S. Army Corps of Engineers for project completed since 2006 under the current on-call contract, plus numerous Excellent and Very Good ratings under the previous contract from 2000 through 2005. The Firm has also received numerous letters of appreciation from clients, both public and private, including attorney Warren Wimer, private firm RBF Consulting, the City of El Monte, and the BLM, to name a few.
From relatively small staking projects to large-scale governmental horizontal and vertical control surveys, the Firm's surveying and mapping capabilities are second to none. Global Positioning System receivers are utilized, as well as conventional total stations and first order leveling equipment. Because Johnson-Frank routinely integrates varied skills with the latest technology, results are optimized and, more importantly, clients' goals are met precisely and efficiently.
---
Surveying Services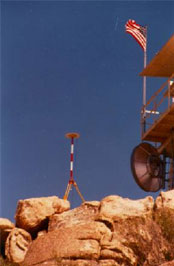 Aerial Mapping and Aerial Control Surveys
Topographic Mapping Surveys
3D Laser Scanning
Cadastral Boundary Surveys
Boundary Surveys
Right of Way Engineering
High Precision Horizontal and Vertical Geodetic Control
Global Positioning System Surveys
Resource Grade, Economical GIS Data Acquisition
Hydrographic Surveys
ALTA Surveys
Construction Surveys